How to reach the conference venues
Are you in Rome to attend the conference? Look up this brief guide on how to reach the two conference venues and how to use public transportation.  In the following we also talk about conference area,  because the two venues are very close to each other, about 300 meters. For more general traveling information, visas, airports see here.
How to reach the ICAPS 2013 Conference Area
The easiest way to reach the ICAPS 2013 Conference Area is by underground (metro).
Rome is served by a metro, which has two lines, line A (red) and line B (blue). Both lines cross at the main railway station, Termini.  The metro is open from 5:30 am until 11:30 pm every day, except for Friday and Saturday night, when the last train departes at 01:30 am. The nearest stop to the conference venues is  Manzoni (Museo della Liberazione), on line A.
Here is a map of the metro. Tickets can be purchased at the vending machines or at newspaper stands inside the stations.  From Termini station, take line A (the red one) in the direction Anagnina.  Get off at Manzoni (after two stops).  To reach the Auditorium Antonianum (main conference venue) at Viale Manzoni 1,  follow Viale Manzoni  until the intersection with Via Merulana (see map). To reach the Department of Computer, Control and Management Engineering (satellite events venue) follow Viale Manzoni until the intersection with Viale Ludovico Ariosto, then turn righ until number 25.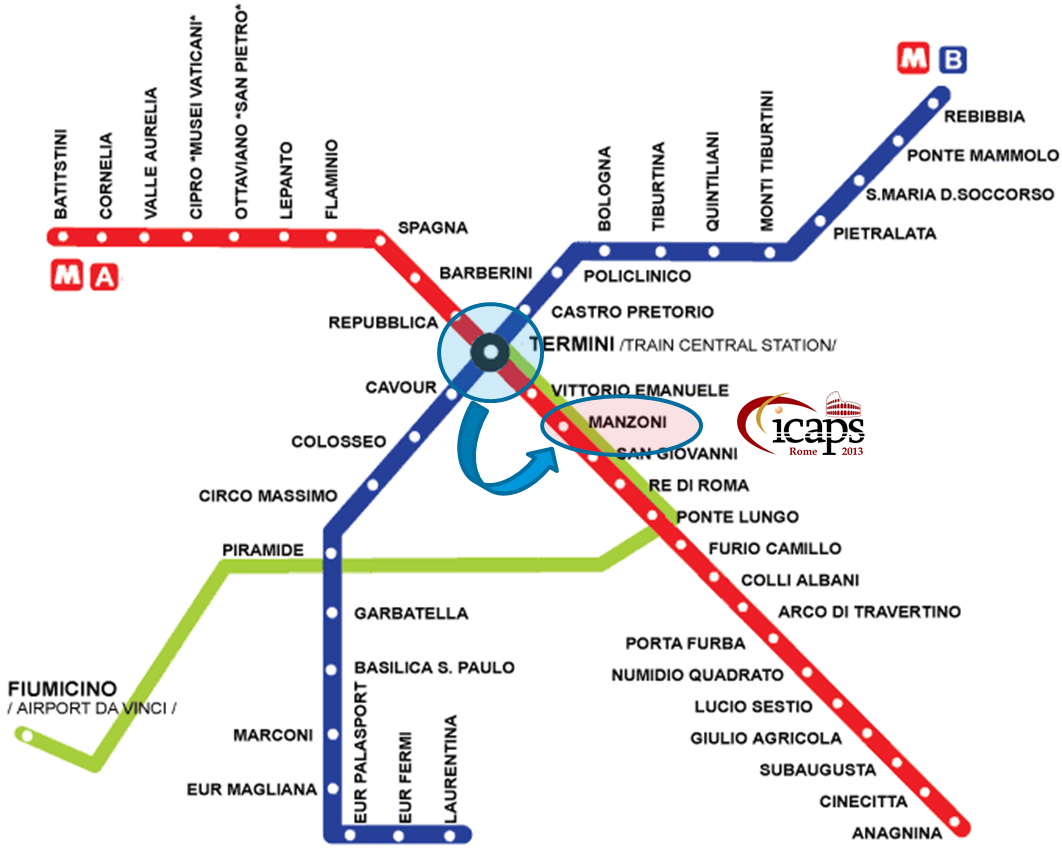 Metro trains run approximately every 4-10 minutes. Night bus lines run from 00:30am to 5:30am. The main terminal stations are Termini (Piazza dei Cinquecento) and Piazza Venezia. Different bus lines depart for all directions from these two locations every 30 minutes.
All local public transport is integrated in Rome, i.e., the same tickets can be used for both Metro and buses. You have to purchase your tickets before you board on any public transport and validate it once on board. Some buses are equipped with ticket vending machines (exact change required); be advised that the tickets purchased directly on the bus should also be validated. Tickets for both the bus system and Metro can be purchased from tobacconists  (stores selling tabacco, marked with the letter "T" outside),  Bars, or vending machines located at metro stations and major bus stops. On both buses and metro there is a flat fare. Available tickets are listed on this page (Italian only). The most common ticket types are listed below:
B.I.T. Standard 1.50€, valid for 90 minutes from validation time but it cannot be used for more than one metro ride
B.I.G. Daily 6€, valid for unlimited metro, bus, and train travel within Rome 24 hours from the first obliteration.
B.T.I. 3-day tourist €16.50, valid till 23:59 of the third day since the day of the first obliteration.
C.I.S. Weekly ticket €24.00, valid till 23:59 of the third day since the day of the first obliteration.
ATAC (desktop) and muoversiaroma.it (mobile) websites help you to find connections, route planning and bus waiting times. Downloadable maps of the public transportation system in the city (Rome centro for city centre and Rome città for the wider area that includes the ICAPS venue) and metro railways (Metro e ferrovie metropolitane) can be found here. The most relevant ones are:
Alternatively, you can walk from the train station to the conference venue. The walk is about 1,5 km. The map below suggests the best path (blu line).

View ICAPS 2013 in a larger map
TAXI
Taxis are rather expensive in Rome (expect to pay about 20-30 EUR at night in the  city center). Usually taxis are not called directly from the street (you can try, but it is not usual). To hire a cab in Rome you have to find a taxi stand in all the major squares or you have to book a taxi by phone. Yo may try also the Taxi mobile app (iOS, Android) that let you hail a taxi based on your current location.
The number to hire a taxi is 060609.  Alternatively, you can call directly one of the major taxi services:
063570 (or +39 06 3570) - Radio Taxi
066645 (or +39 06 6645) – Pronto Taxi
065551 (or +39 06 5551) – Radio Taxi Samarcanda (free onboard Wi-Fi)
064994 (or +39 06 4995) – La Capitale
064157 (or +39 06 4157) – Tevere
You can find official fares and a map of where you can find a taxi in the city center here and here. These are main taxi stands in the city center:
Largo Torre Argentina (between Pantheon & Trastevere)
Piazza Fiume (Villa Borghese)
Piazza Venezia
Piazza G. Belli (Trastevere)
Piazzale Ostiense
Piazza S.Silvestro (Fontana di Trevi)
Piazza dei Cinquecento (Termini Station) – Near conference venue
Piazzale della Stazione Tiburtina
Piazza Risorgimento (Vatican)
Here are some facts you have to know when you take a taxi in Rome:
Taxis licensed by Rome City Council are white and have a sign bearing the word "TAXI" on their roofs. The symbol of Rome City Council is clearly visible on the front doors and the license inside the back left. Other vehicles may well be conducted by unauthorized drivers and the fare could be much higher. You want an official cab. Here is a picture of how an official cab looks like in Rome.
There will be a fixed starting charge, which will be higher for late nights, Sundays and holidays. There will also be a charge for each bag that the cabbie handles
Always ask to be given a receipt. The receipt must include the following information: details of the journey, the licence number, the fare and the driver's signature.
Taxi drivers in Rome do not  usually take credit cards